Save the Dates for Upcoming Lectures
Saturdays: January 25, February 22, and March 29
In 2014, Spirits Alive will resume its annual lecture series spotlighting cemetery topics. Please put us on your calendar until we secure a location and times.
January 24
The Art, History, and Symbolism of Early New England Gravestones
Presented by The Gravestone Girls - Melissa Anderson, Maggie White, and Brenda Sullivan
February 22
Bartlett Adams, Stone Cutter of Portland, Maine and Surrounding Area.
Exploring the life, times, and works of the shop of Bartlett Adams, who maintained his shop in Portland, Maine from 1800 to 1828. Lecturer: Ron Romano, member of Spirits Alive Board and Summer Tour Docent
March 29
The Status and Future of Portland's Forgotten Cemeteries
A panel of cemetery representatives will discuss several historic small burial grounds in the area and what is takes to restore them to our cultural landscape.
posted December 7, 2013
October 24-26 & 30-31
6:30pm - 7:30pm

Sunday, October 27
5:00pm - 6:00pm
Yes, folks, it's back! Walk Among the Shadows allows the brave to travel Funeral Lane at night. Led by hooded specters, the strong of heart will hear ghosts of the past tell their eerie Civil War-time tales among the dimly lit ancient stones. Fun for the whole family! Tickets are $10 for adults, and $5 for children 12 and under. There are no presales, so arrive early to find a parking space and get a chance to enter the gates with a group.
posted September 20, 2013
Thursday, September 5, 2013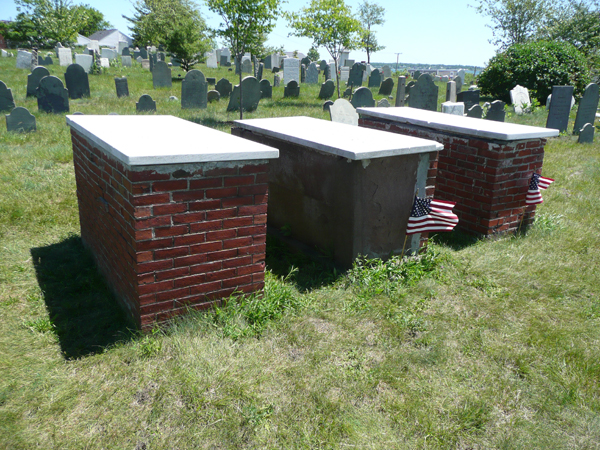 The Maine Historical Society and Maine Military Historical Society will host a graveside service with military honors at Portland's Eastern Cemetery. Scheduled to speak are: 
David Googins, Maine Historical Society Chairman
Colonel Andres Gibson, Maine Army National Guard Chaplain
David Hanna, Author
Ann LePage, First Lady of Maine
Susie Kitchens, British Consulate General, Boston
Brigadier General James Campbell, Maine National Guard
Michael Brennan, Mayor of Portland
Herb Adams, Historian

The Italian Heritage Center Concert Band and the Maine Army National Guard will perform, and descendants of the captains will lay wreaths on their tombs.
posted August 29, 2013
April 3, 1925 – August 7, 2013
Cissie Lindemann was a faithful Spirits Alive volunteer, wielding a shovel at workdays, donning a black robe to help out at Walk Among the Shadows, and opening the cemetery gates each morning for visitors in the summer — (just to name a few). In 2008, she was given our first and only Volunteer of the Year award to thank her for her selfless giving to this historic landscape. It is with sad hearts that we post her photo here for all to see as a memento to a live well-lived. We miss you, Cissie.
posted August 27, 2013
July 3 – October 13, 2013
Wednesdays 1:30 pm
Saturdays 10:30 am
Sundays 1:30 pm
Not only are our tours on Saturdays and Sundays this year, but they are also on Wednesdays! Come out and take a stroll through the cemetery grounds with one of our guides. You'll learn about the history of the cemetery, Portland history, types of stones, mortuary art, and the lives who are interred in these sacred grounds. Tickets are only $7 for adults, $4 students and seniors, and free for children 12 years and younger. Read more details about these tours.
posted June 25, 2013
On June 2, 1855, Mayor Neal Dow instructed his militia to fire on a mob that had formed in front of city hall and threatened to enter the doors by force. The group of men believed that Dow, responsible for passing the Maine Law of 1851 that banned the sale and manufacture of alcohol in the state, was keeping a stash for himself in the basement.
One man was killed during this melee. John Robbins of Deer Isle had come to Portland and visited with his fiance, Catherine Fuller earlier in the day. He was second mate of the barque (a 3-masted sailing vessel) Louisa Eaton. He was described as "eminently peaceful and good natured; he was a handsome man, finely shaped and about six feet tall."1
Don't expect to lay a wreath at Mr. Robinson's headstone on this, the 158th anniversary of the Portland Rum Riot. He was interred at the foot of John Noble's gravesite at the age of 22, but like so many buried in the Eastern Cemetery, he either had no stone carved for him, or it has vanished.
1 In 1855 Review of the Testimony Taken Before The Second Inquest On The Body of John Robbins, Who was shot in Portland, June 2d, 1855; together with Remarks on the Report of the "Investigating Committee," appointed by Mayor Dow and the Aldermen, June 9th, 1855 (n.d. [1855], n.p. [Portland, Me.], anon.)
posted June 2, 2013
May 18, 2013
10:00 am – 12:00 pm
Meet at the Congress Street gate
Join cemetery friends, gardeners, history buffs, and neighbors to spruce up the area for summer. There will be an opportunity to gather the refuse of winter as well as mulch around the happy trees dotting the landscape. No experience is required! Master gardeners will be on hand to instruct volunteers on the basics of working near historic gravestones, and provide a fun morning for all. Support this city green space and help us encourage respect by keeping it beautiful.
posted May 8, 2013
Support the Eastern Cemetery with your holiday giving and through the year
You have to admit that giving your friends and family members a Spirits Alive Friendship would be a very creative and unexpected holiday gift! For only $5 each, you can help Spirits Alive keep the Eastern Cemetery alive for generations to come and join as a Friend. Through your support we will continue to:
Keep the gates open – encouraging the community to explore its open and safe green space
Offer education about the cemetery and its residents to the public – through tours, lectures, and events
Encourage and support the city in keeping the site clean and safe for visitors of all ages
Spearhead the drive to repair and restore the Dead House (Victorian Tool Shed)
Preserve this incredible outdoor museum and sacred historic landscape
Go to: www.spiritsalive.org/join to take advantage of this offer today!
posted December 2012
October 18-20 & 25-27
6:30 pm - 7:30 pm
This year's theme, "On Land and at Sea — Portland in the War of 1812" means spirits on the tour have a connection to that war whether good or bad. Spirits are portrayed by a local performing arts group of professional actors, Acorn Productions.
Victims — er, tourists — will be led down Funeral Lane by hooded specters who wear long, black robes and carry a lantern to lead the way. Tourists will meet spirits such as Sewell and Rhoda Drinkwater, Eliza Clapp, Dr. John Perkins Briggs, Hugh McClellan, Patience Clarke, and John Kilby Smith. Come hear the stories about who they are and how they ended up in the Eastern Cemetery (if they realize they reside there.) It's a family-friendly event, only slightly spooky.
Half of all proceeds go to the upkeep, maintenance, conservation, and promotion of the Eastern Cemetery. The other half of proceeds go to Acorn Productions, a community theatre group that supports performing artists in Southern Maine.
Our generous sponsors for this event include Coffee by Design, Cyclemania, KnitWit, J.Kelley Salon, and the Portland Daily Sun.
posted October 17, 2012
October 18-20 & 25-27
6:30 - 7:30 pm
It's time for our annual evening tours through the Eastern Cemetery! This year, our theme "On Land and at Sea — Portland in the War of 1812" boasts an all-new line up of ghosts portrayed by a local performing arts group of professional actors, Acorn Productions!
We need volunteer specters. Specters escort groups of 10 or so audience members through the Walk Among the Shadows experience. The Specters wear long, black robes and carry a flashlight to help guide the way from actor to actor along Funeral Lane. The event is held on October 18, 19, 20 and 25, 26, and 27. Specters should plan to arrive at 6:00 PM and would stay until the last group is through — generally about 8:00 PM at the latest. You do not need to volunteer all 6 evenings and we can supply the black, hooded robe. Email sa@spiritsalive.org or bohbhagr@maine.rr.com today!
posted September 29, 2012
Saturday, September 29
9:00 am - 12:00 pm
We are proud to join volunteers around the nation, who will visit their favorite parks, beaches, wildlife preserves, or forests and chip in to help improve these treasured places. This year marks the 19th annual National Public Lands Day, an event that brings together thousands of volunteers from coast to coast to improve and restore the lands and facilities that Americans use for recreation, education, exercise and just plain enjoyment. Volunteers will gather in the morning at the Congress Street gates to find out what gardening and trash pick-up tasks are available. Please join us! The Eastern Cemetery was added to the National Register of Historic Places in 1973.
Also going on that day is Meeting Place, East Bayside, from 1 to 5pm. Four fence murals will be showcased, there will be a soccer game on Fox Field, basketball games on the courts, music, food and many East Bayside neighborhood businesses and nonprofits will be opening their doors that day - of course the cemetery will be open as well! Meeting Place East Bayside is a project of Art At Work/City of Portland and the East Bayside Neighborhood Organization.
posted September 22, 2012
Saturdays 10:00am
Sundays 1:30pm
Every weekend in the summer and fall, we offer tours of the cemetery. Come join our intrepid guides as they lead you through the history of this spectacular bone yard. We also provide special group tours if you phone Barb Hager at 761-0338.
$7 adults, $4 seniors or students, children under 12 years are free
Tours last 1 to 1-1/2 hours
Meet 15 minutes early at the Congress Street gate
posted August 11, 2012
Saturday, July 28, 2012
(rain date July 29)
9:00am - 4:00pm
This is a hands-on workshop where we will clean and reset stones while learning best practices to identify and document work done. There will be instruction on making a new cast base for stones and simple mortaring and adhesive repair. Participants should wear work clothes and sturdy shoes or boots. We are outside all day so bring a hat, sunscreen and bug spray. Instructor: Ta Mara Conde of Historic Gravestone Services.
Register today as the workshop is limited to 15 participants!
RSVP: ec.stonegroup@gmail.com
Suggested donation $10
posted July 12, 2012
The Eastern Cemetery Could Use Your Help
Saturday, June 9, 2012
9:00 AM - 12:00 PM
It's time to get the cemetery a little gussied up. The Eastern Cemetery cordially invites you inside the gates for some gardening and cleanup. Several beds need weeding, pruning and edging. Some shrubs need to be cleaned out and general removal of plant material that didn't make it through the winter should be done. Please bring whatever tools you may need for the jobs you like to do, but don't bother bringing watering cans! We also have extra tools and gloves we'd be glad to lend out. Meet us at the Dead House inside the Congress Street gate.
posted June 6, 2012
Decorated with American flags, the gates are open for the summer
On Saturday, a group of volunteers including Becky, Mark, Em, Jean, Art and Holly placed U.S. flags on veteran graves in the cemetery. Burial records and markers indicate veterans from the Mexican-American War, the War of 1812, the Civil War, and the Revolutionary War are memorialized in the Eastern Cemetery. Though the Eastern Cemetery had closed to more burials before the Civil War, Portlanders have been decorating graves in remembrance for over a century.
posted May 28, 2012
Free Educational Opportunity Aids Local History Organizations
Our small community has a plethora of historic sites, groups, and organizations that could not survive without the dedication and selflessness of volunteers. In gratitude for this giving, 8 groups here in Portland have once again joined forces to present the Portland History Docents Program. Greater Portland Landmarks is the leading organization for this, the 17th year of the collaborative, and classes start Thursday, February 9, 2012. In addition to lectures, site-specific training, and a graduation ceremony, participants will enjoy site visits to all partner locations:
All they ask in return is a commitment to volunteer with one of the partner organizations. For details, visit Greater Portland Landmarks or email GPL for more information. You may also call the PHD coordinator, Marjorie Getz, at 774-5561 ext.120.
posted January 5, 2012
Hundreds Came Out to Tour at Night
For 5 nights in late October, the cemetery gates were open so that the spirits would tell their tales to the living. Groups of visitors were led through by hooded specters who stopped from time to time for these stories from the dead. Spirits who shared their soulful tales of death and the sea included:
Captain Jacob Adams
Anne Mitton Brackett
Lydia Carver
Elizabeth Wendell Quincy Clapp
Hannah Andrews, wife of Benjamin Tappan Chase
Captain Alexander McClellan
Anna Dunn Deering Milk
Captain Lemuel Moody
Commodore Edward Preble
Lt. Henry Wadsworth
Mary Stonehouse
Thank you to everyone who came out to support our ongoing efforts to improve the Eastern Cemetery through the warm, the cold, the clear, and even the snow! The funds raised by Spirits Alive during this event will be used to complete projects under the new master plan. We hope this master plan will be approved by the city council in early 2012.
posted November 13, 2011
October 20-22 and 27-29, 2011
6:30pm – 7:30pm
Evening tours through the cemetery - meet those who perpetually dwell inside the gates and hear their eerie tales. Fun for the whole family! Find out more about these family-friendly tours.
posted October 15, 2011
October 15, 2011
9AM – 12PM
It's the last chance you have this season to help out in the cemetery. Saturday morning, we'll be trimming, pruning, and tidying the cemetery in preparation for winter. Please come join us! We have a good time and get dirt under our nails at the same time.
posted October 5, 2011
Evening Tours Through the Eastern Cemetery
We are busy planning the 4th year of Walk Among the Shadows and have some tales of the sea, a spooky setting, and actors portraying some very interesting and eerie spirits! Come on out October 20-22 & 27-29 from 6:30pm to 7:30pm and witness the tales of those who reside inside the gates as told by actors from Portland Playback and Acorn Productions. More information on the October tours is available!
We have some super-cool sponsors this year, too! Special thanks to our neighbors Ferdinand, Knit Wit Yarn Shop, and J.Kelley Salon!
posted September 15, 2011
Happy Death Day, Charles Codman
Replacement Headstone for 19th Century Painter
Charles Codman was a landscape artist who lived in Portland until his death. He was discovered by the art critic John Neal after he had come to work in Maine as a sign painter. His work is included in such collections as the Portland Museum of Art, the Brooklyn Museum of Art, the Smithsonian Museum of American Art, the Farnsworth Art Museum, the Maine State Museum, Bowdoin College Museum of Fine Arts, Boston Museum of Fine Arts, and the Boston Athenaeum. Little is known about his life and his death, but at the bottom of his stone marker is carved, "erected by his friends." Due to the fragile nature of the original marker, Spirits Alive raised the funds to have the original stone recreated in granite and installed in the same place the original stood. The epitaph says:
CHARLES CODMAN
A Child of Genius,
whose Pencil
has earned for him
a cherished and enduring
Reputation.
died Sept. 11, 1842.
AEt. 41.
posted September 11, 2011
Come help out your local burying ground
Looking for something interesting to do? A way to help out your community in a fun way? Make your next party conversation interesting, "So I was in the cemetery on Saturday morning...." Take the challenge posed by the government in a pre-911 effort to volunteer! It's another cemetery workday and we can only get things done with lots of volunteers. Please help us:
9am - 12pm
Saturday, September 10
posted August 30, 2011
Art & the Elements Tour, Stone Survey, Summer Tours, Walk Among the Shadows, East Deering News
Can summer be almost over? The cemetery has been a busy place in the past few months with tours and survey work going on. We're also happy to report on the work at another Portland cemetery: the East Deering. With Halloween right around the corner, mark your calendars for Walk Among the Shadows!
posted August 28, 2011
August 20 & September 10 at 1:30pm
350 years of weather and pollution have had an effect on the carved stones of the Eastern Cemetery. Come learn about the geology of the stones as well as the art that was carved on them in this family-friendly tour. Lisa will lead you around the stones and tombs, so wear good shoes! The weather is a bit harsher up on the hill than it is in the rest of town, so wear layers and consider a hat and sunglasses. Arrive at the Dead House inside the Congress Street gates with cash in hand! Adults are $7, students and seniors $4, but children under 12 are free. The tour will be canceled if it is raining.
posted August 11, 2011
Every Sunday at 1:30pm
Come stroll around the 6-acre site and hear stories of Portland's past while learning about burial customs, mortuary art, and the history of the oldest landscape on the peninsula. Guides will lead you around the stones and tombs, so wear good shoes! The weather is a bit harsher up on the hill than it is in the rest of town, so wear layers and consider a hat and sunglasses. Arrive at the Dead House inside the Congress Street gates with cash in hand! Adults are $7, students and seniors $4, but children under 12 are free. Tours run each Sunday until October. Tours will be canceled if it is raining.
posted August 10, 2011
Unearthing History, Tours & Workshops
Summer tours start in July! Find out what's been going on in June: there is more on our stone survey work, overviews and photos of the Oxbow Cemetery Workshop, the Association for Gravestone Studies conference, and the Maine Genealogists day in the cemetery.
posted June 28, 2011
Genealogists Descend on the Cemetery
A Little Stone Survey Work and a Tour
On Saturday, June 4, the Greater Portland Chapter of the Maine Genealogical Society gave up their morning to help us transcribe the information from grave markers for our stone survey project. They learned how to use the mirror technique in the bright sun as well as how to fill out the long form of information for each. After a snack and a gander at the beautiful jewelry by Della Mano Designs, they were given a tour of the grounds in thanks for their good work. They were told about the history of the bone yard, the different types of stones there, the artwork on the stones, and the history of those buried within the gates. It was a great day and we appreciate all of their hard work!
Stone survey work continues all summer on Saturdays from 8AM – 12PM, weather permitting.
posted June 7, 2011
June 12 is Our 2nd Workday and Stone Surveying

9:00am – 12:00pm: Gardening
Spirits Alive will gather to trim, tidy, prune and plant. Please join us inside the Congress Street gates. Gardening tools and training will be supplied.
8:00am – 12:00pm: Stone Survey
Also that morning, our stone surveying continues in the back of the cemetery. Tools, stools, pencils and clipboards supplied!
posted June 4, 2011
A long list of events and happenings in the May Enews
It's spring, and the cemetery is once again awake. We're excited to host the Maine Ghost Hunters, the Greater Portland Genealogical Society, and the Association for Gravestone Studies. Learn more about those goings-ons as well as projects such as fence repair and stone transcription. Thomas Paine, Esquire is our subterranean celebrity of the month.
posted May 24, 2011
Year 4 of our Stone Transcription Project Starts May 14
Saturday, May 14 marks the beginning of the final year for phase 1 of our stone transcription project. We have been working now for 4 years to transcribe information from the surfaces of every stone in the cemetery while making a record of the physical status of the stone. Won't you join us? All you have to do is bring yourself, prepare to get dirt under your nails, wear plenty of layers, and a sport a smile.
posted May 8, 2011
The April Enews is Ready for Your Eyes
The Workdays are starting up again as well as the stone transcription project. Find out all about the tall white obelisk and who is memorialized on it (hint: Reverend William Reese).
posted April 24, 2011
The March issue of eNews is now available!
The "Death and Survival in the Civil War" lecture series wraps up with a lecture by Margaret Creighton on the 26th and subterranean celebrity of the month Anne Storer is examined.
posted March 13, 2011
The February issue of eNews is Out
Our "Death and Survival in the Civil War" lecture series as well as subterranean celebrity of the month, Francis Fessenden are what this month's eNews is all about
posted February 20, 2011
The January issue of eNews is in email boxes now!
This month's edition of the eNews (oh, ok, there hasn't been one since October), highlights the upcoming lecture series as well as our subterranean celebrity of the month, Frederick Blake.
posted January 20, 2011
First Lecture: January 29 at 10am
The first lecture, "The Forest City Regiment: Death, Mourning and Loss," is Saturday, January 29, 2011 at 10:00am and will be given by Kim MacIsaac, Director/Curator of the Fifth Maine Regiment Museum on Peaks Island.
The theme "Death and Survival in the Civil War" was chosen in support of the 150th Anniversary of the American Civil War (2011-2015). These lectures will offer insight into this country's greatest national crisis in relation to death and dying. It is estimated that up to 700,000 people, or 2% of the population died in the War Between the States.
This series is supported in part with funding from the Maine Humanities Council. Admission is free, but donations are suggested.
posted January 17, 2011
Buy Art Inspired by the Eastern Cemetery
A collaboration between Spirits Alive and the Society of East End Arts resulted in the event, "Beyond the Gates" in 2007. A collection of artworks inspired by the Eastern Cemetery included this pastel, "East End Spirits," pictured above. If you want more information, email Joan Jordan about her pastel on paper which is approximately 24x18" and selling for $135.
posted January 17, 2011
*Looking for something posted before January 16, 2011? Check the Spirits Alive Archives.