October 28, 29 & 30 | 6:30 pm - 7:30 pm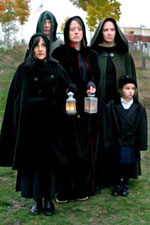 Walk Among the Shadows is back! In cooperation with Waynflete School and the City of Portland, young costumed actors will portray the interred in with the background of an eerie, dimly-lit, gravestone-filled background scenery. See and hear famous, but dead Portlanders come to life and voice their strange tales! Great entertainment for the whole family. Tickets are $10 per person ($5 for children 12 and under) and payable at the gates; tours run every 10 minutes and last less than an hour. Read a story about the Spirits Alive evening tours of 2007.
Reservations are available! Leave a message with your request (day, time, number of people) at: 207-318-2982 or email the details to: leana@spiritsalive.org. You will receive a confirmation if your requested time and date are available.
Saturday, October 17, 2009 | 9:00 AM - 12:00 PM
Come on out and move some dirt! Volunteer part or all of your Saturday morning trimming, pruning, cleaning or tidying the grounds. Under the direction of Barry, Deb, and Kathleen, gardeners will learn to perform maintenance tasks while carefully working around the historic stones. We have a good time and sometimes even break a sweat! Drinks are provided courtesy of Amato's and Shipyard Brewing. Remember to park off of Congress Street in deference to our retail neighbors!
October 3, 10, 17, 24 & 31 | 9:00 AM – 12:00 PM

Weather permitting. Stoners, those who help on our stone transcription project of transcribing the thousands of stones in the cemetery, are offering training on Saturday mornings. If you have an eye for detail and love recording details while playing detective on the whereabouts, condition, and inscriptions on old grave markers, we're need you! Check our schedule.
Subterranean Celebrity: Bartlett Adams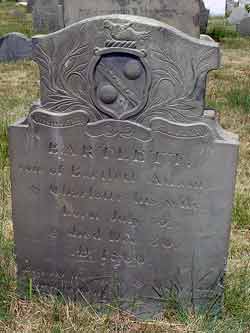 Who is buried in the Eastern Cemetery?
Though we know that the gravestones on our site were carved by hundreds of different stone cutters, it is rare that we are able to attribute a stone to a particular tradesman (unless they've carved their initials or name into it). It has been discovered that one of them not only is responsible for several stones on the site, but that he also was also was one of the most talented. Bartlett Adams (1776-1828) trained in Massachusetts and made his way to Portsmouth, NH advertising his skill and a "flock of Italian marble and Quincy slate stone" in his possession. After his brief time there, he settled in Portland and married Charlotte Neal in 1804 (whom rests with him in a tomb near Funeral Lane). He is credited with carving the original monument to the captain of the Enterprise, Lt. William Burrows. Many slate stones in the Eastern Cemetery can be attributed to his work other than those of 3 of his own 5 children (the other 2 are buried with him in the family tomb). The stone for his son Bartlett is the most beautiful of these with an Adams coat of arms at the top and the inscription, "Betwixt his birth and death HOW SHORT THE SPACE." This would be an appropriate inscription on the stone of anyone who is laid to rest — no matter what age — but little Bartlett was only 5 months old when he died. What sorrow hath he who carves the gravestone for his own child.
Stay tuned for more information on our winter lecture series featuring 3 fascinating historians in 2010.
Mayor Jill Duson, Maine State Historian Earle Shettleworth, and Portland Museum of Art Curator Tom Denenberg each spoke at this noon event on September 11. We welcomed the newly minted replacement stone for our favorite 19th century landscape artist and marked the anniversary of his death by celebrating his life. See photos of the day. Special thanks for Liz Demers for donating tasty cookies and Leana for supplying the lemonade on that beautiful day.
Help Spirits Alive keep the Eastern Cemetery alive for generations to come and join as a Friend. For only $25 a year ($40 for families, $15 for students or elders), you can help:
Continue offering education to the public – through tours, lectures, and events
Build a master plan for the cemetery – to ensure its care forever
Keep the gates open – encouraging the community to use its open green space