Saturday, January 29, 2011
10:00 am - 11:00 am
Maine Historical Society, Portland, ME
Free, Donations Appreciated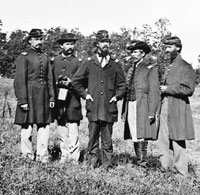 Join us as Kim MacIsaac from the Fifth Maine Regiment Museum speaks on "The Forest City Regiment: Death, Mourning and Loss." One of the first Maine regiments to be mustered in, The Forest City Regiment included 1,046 men from southern and central Maine, and left Portland in July 1861. After 3 years, this fighting regiment mustered out only 193—the rest were killed in action, died from disease, were wounded, deserted, or transferred to other regiments.
The theme for this year's lecture series is "Death and Survival in the Civil War" in support of the 150th anniversary of the War Between the States.
Two more lectures will take place on March 5 and March 26. Find out more about the lecture series.
Subterranean Celebrity: Frederick W.C. Blake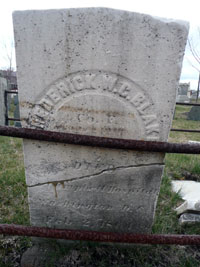 There are at least 29 known Civil War soldiers and veterans buried in the Eastern Cemetery including Frederick W.C. Blake. His eroded marble headstone rests against the iron pipes that surround his family's plot in section B, row 3, plot 16, and a weathered inscription reveals that he was part of the Maine 16th Regiment's Company F. The Maine 16th Regiment was mustered in 1862-1865 and its members were part of battles such as those at Antietam, Maryland; Gettysburg; and Petersburg, Virginia. Remaining members were moved to the 20th Regiment, but Mr. Blake was not one of them. Although he had only been enlisted since September 12, 1863, he died in Campbell General Hospital in Washington, DC on February 2, 1864 as a single man at age 38.
Sources: familysearch.org Maine in the Civil War, The Sixteenth Maine Regiment in the War of the Rebellion, 1861-1865 by Abner Ralph Small, and mrlincolnswhitehouse.org.
Help Spirits Alive keep the Eastern Cemetery alive for generations to come and join as a Friend. For only $25 a year ($40 for families, $15 for students or elders), you can help:
Continue offering education to the public – through tours, lectures, and events
Encourage and support the city in keeping the site clean and safe for visitors of all ages
Repair and restore the victorian tool shed
Keep the gates open – encouraging the community to use its open green space