Saturday, March 5, 2011
10:00 am - 11:00 am
Maine Historical Society, Portland, ME
Free, Donations Appreciated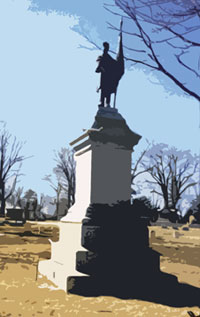 Join us as Tom Desjardin, PhD, Chief Historian, Maine Bureau of Parks and Lands will speak on "Civil War Heroes and Heroines Buried in Evergreen Cemetery."
Evergreen Cemetery is 239 acres located on Stevens Avenue. In addition to being the fourth city cemetery, it is a place to birdwatch and see numerous examples of Victorian memorial sculpture, and a experience the beauty of rural cemetery landscape.
Many civil war veterans are part of the over 65,000 interred in this cemetery, and a monument has been erected in their memory.
The last lecture in this series, "Death and Survival in the Civil War," will take place on March 26. Find out more about the lecture series.
Subterranean Celebrity: Francis Fessenden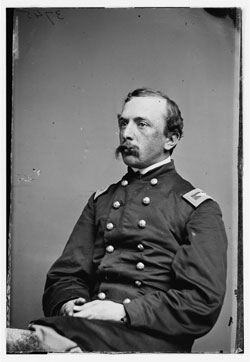 Though burial records suggest that there are Fessendens buried inside the Eastern Cemetery gates, Francis Fessenden's final resting place is in Evergreen Cemetery.
Major General Francis Fessenden was a veteran of the Civil War, and serving from 1861-1866, he saw action in both the Battle of Shiloh and the Red River Campaign. After his retirement from the Army — his leg had been amputated because of wounds — he came back to Portland to practice law and was elected mayor.
In 1907 — a year after his death — the book he wrote about his father, William Pitt Fessenden, was published. General Fessenden had attended Bowdoin College and Harvad Law School.
Help Spirits Alive keep the Eastern Cemetery alive for generations to come and join as a Friend. For only $25 a year ($40 for families, $15 for students or elders), you can help:
Continue offering education to the public – through tours, lectures, and events
Encourage and support the city in keeping the site clean and safe for visitors of all ages
Repair and restore the victorian tool shed
Keep the gates open – encouraging the community to use its open green space