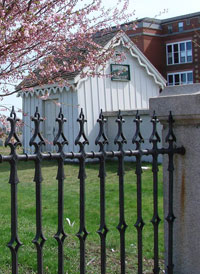 May 7 & June 11, 2011
9:00 AM - 12:00 PM
Congress street gate
If you enjoy digging in your garden or getting soil under your fingernails, join us on Saturday, May 7 as we clean up and prune on the site. It was a long winter after a fairly dry summer, so be prepared to sweat. Please help! The Eastern Cemetery needs you.
Gloves, garden tools, and wheelbarrows will be supplied.
We are also planning another workday on June 11, so if you can't make it to this one, plan on that one!
May 14, 2011
8:00 AM - 12:00 pm
Back of the cemetery
The survey of all of the gravestones in the cemetery is in its 4th and final year! Join us most Saturday mornings to learn how to take down facts from the old stones. Measuring, determining condition, deciphering inscriptions... it's like being a detective, a historian, and an archaeologist at the same time.
We'll start back up on May 14, so come on out — pencils, stools, and fun will be supplied.
At the bend in Funeral Lane is a large white obelisk – one of the most prominent markers on the site. Erected in 1859 to the memory of Reverend William I. Reese, the marble base is carved on all four sides. The obelisk is decorated with a plaque that says "God is Love" and a garland of flowers at the top. Commissioned by Francis O.J. Smith, a former U.S. Congressman, it was erected 25 years after the reverend's death. The marker indicates that "this friend of mankind" must have been an exceptional soul. He was credited with founding the Widow's Wood Society, a charity organized to provide fuel to widows, as well as being the 3rd pastor of the Universalist Society in Portland. Reverend Reese was called away after 2 years in Portland and eventually wound up in Buffalo, NY. It was there, caring for those sickened with cholera, that he met his maker — after only 2 months of service. Though Reverend Reese was only 34 when he died, he made a great impact on Portland, earning this majestic monument to his life. Photos of each side of the monument are available as well as a transcription of the inscription.
Help Spirits Alive keep the Eastern Cemetery alive for generations to come and join as a Friend. For only $25 a year ($40 for families, $15 for students or elders), you can help:
Continue offering education to the public – through tours, lectures, and events
Encourage and support the city in keeping the site clean and safe for visitors of all ages
Repair and restore the victorian tool shed
Keep the gates open – encouraging the community to use its open green space
We also offer 2 free tour tickets and 10% off all Spirits Alive merchandise.