Bartlett Adams, Stonecutter

About one-third of the identifiable gravestones at Eastern Cemetery were produced in the Portland stonecutting shop of Bartlett Adams. Adams expert Ron Romano has attributed about 700 of them to the Adams shop, and has surveyed over 200 more early cemeteries in southern Maine, adding over 1,000 more gravestones to the list.
The Man and His Life
Bartlett Adams was born in Massachusetts in 1776 and learned stonecutting there as a teenage apprentice for his brother-in-law.  In 1800, at age 24, he made his way to Portland and took out his first newspaper advertisement—introducing himself as a "sculptor"— pointing to his pride as an artist.  He married Charlotte Neal in 1803 and had 7 children, 6 of whom predeceased both of them.  Adams would live to see only one of his daughters marry and bear him a grandchild.  This daughter died shortly after delivering that child, and Bartlett's death followed soon after in 1828 when he was only 51.
Adams was the first stonecutter in Portland, and owned the only stonecutting shop in the area from 1800 to 1828. In addition to gravestones, Bartlett's shop produced hearthstones, mantel pieces, and other finished stones for Portland's booming population. At least 8 other stonecutters worked with Adams in his shop over the years: his brother, 2 nephews, and others who would go on to their own successful careers.
Read about Adams when he was our Subterranean Celebrity of the month.
The Iconography of Bartlett Adams
Of the hundreds of stones attributed to him, some design elements and lettering styles stand out and are his alone. If a gravestone lover knows Bartlett Adams' work, they probably know this headstone. Carved for his first-born son, Adams incorporated his interpretation of an Adams family crest on the stone, complete with birds and globes. The precise lettering exemplifies his mastery of stonecutting. Other design elements where Adams showcased his artistic skill in carving include: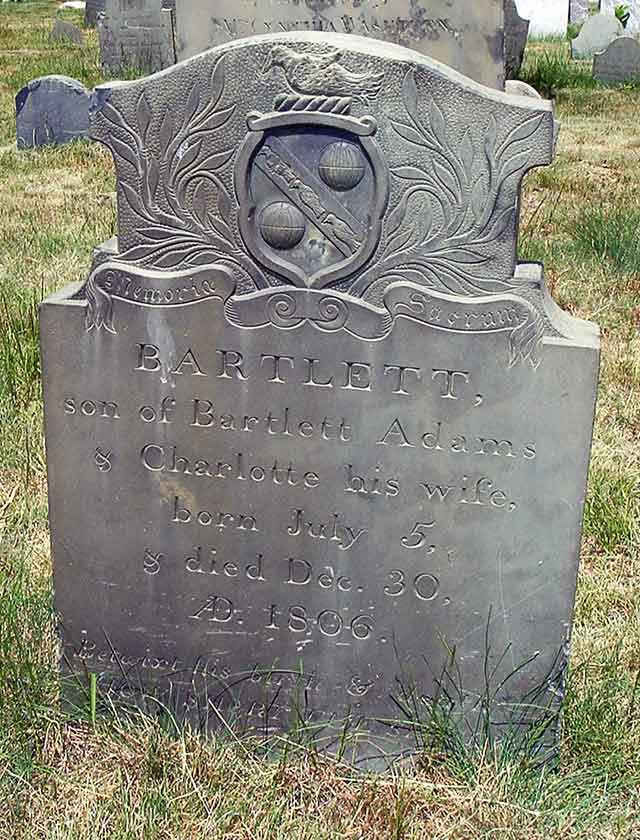 Winged Faces
Flourishes
Rising Suns
Rosettes
Urns
The Research of Adams and His Work
Ron Romano began in 2013 as a tour guide for Spirits Alive at the Eastern Cemetery.  When he realized that no one had conducted a complete survey of Adams' work at the cemetery, he began his research into this important local figure.  Putting together the story of Adams' life and work also led to a personal discovery—Romano and Adams are distantly-related cousins!  Romano's research continues today—he conducts surveys in area cemeteries to document the scope of Adams' work.  Over 700 people have attended his presentations on Adams, and his book, Early Gravestones in Southern Maine: The Genius of Bartlett Adams, is being published by The History Press in August 2016.
Here are a few ways you can learn more about Bartlett Adams:
Inventory of Gravestones
Download Ron's inventory of Bartlett Adams stones (MS Excel file, 568k). The file was last updated in July 2016.